by Joe Mis
– Senior Columnist –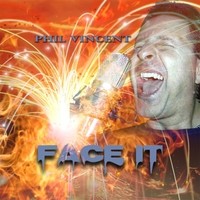 Face It is the latest release from melodic metal's own one-man-band, Phil Vincent. Phil is out once again to prove that one man CAN do it all – and he succeeds. This is newest in a large and ever-growing discography that includes not only his solo efforts, but also his work with melodic metal bands Tragik, D'Ercole, Circular Logik, and Legion. Solar Flare is a full-length bonus CD, one originally released as a digital download in 2012.
Vincent continues to prove himself to be one of the true Renaissance men of modern rock, handling almost every aspect of his recordings both in front of and behind the microphone, as well as working both sides of the mixing board. He plays guitar, bass, drums, and keys, he writes (or co-writes in rare cases) all of his songs, and produces and engineers his own CDs, so a Phil Vincent album truly IS a Phil Vincent album. Originally a drummer and songwriter, Vincent grew like a weed into other instruments and studio operations until he could do it all. Unlike other multi-instrumentalists, Phil can sing as well as play, and writes songs with a firm grasp of lyrics and an ever-present sense of melody. Influenced by everyone from the Beatles to Kiss, Phil Vincent's music is a treat for the ear, and an inspiration to any aspiring musician.
Both Face It and Solar Flare are solid, riff-driven melodic rock / metal releases, with the former being more diverse and the latter heavier and more "metal." As listeners have come to expect, Phil delivers his music with enthusiasm and passion. Besides the multi-layered vocals, he also plays rhythm guitar, bass, drums and keyboards on all tracks – and plays all of them remarkably well. He also does a number of lead guitar solos himself, but he has called in Vince O'Regan, David Zychek, Billy Roux, Michael J. Sprague, Paul Columbo, and Steven Albanese to assist with the six-string fireworks. Overall, Phil's music is packed with diverse melodies, big guitar hooks, and well-written lyrics that take the classic sound of 80's and 90's hard rock and modernizes it without sterilizing it.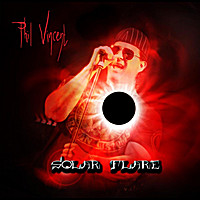 This pair of CDs contains a little bit of everything. Face It runs the gamut from crunchy rhythm lines ("Long Hard Road," "Is This All There Is?") to pop-rock tracks ("Sooner Or Later," "Nothing But Time") to heavy but melodic rock ("Can't Go Back," "Divided") to epic guitar histrionics ("Make Up Your Mind"). "We All Die Young" is a fine mellow keyboard epic with poignant lyrics and strong vocals – showcasing Vincent's songwriting skills at their best. Phil's best vocal lines are arguably on the slower "Changes," a track that features introspective lyrics, many vocal layers, and smoking hot guitars. "Full Circle" even has touches of progressive/alternative rock. The influences of Dokken and Winger are obvious, but Phil's sound is completely modern.
Solar Flare is the older of the two albums, and there are some differences. The music tends to be a little heavier, and the mix is not quite as solid – most notably on the vocals. Again, the CD boasts a number of styles ranging from gritty hard rock ("On The Run") to heavy bass-driven blues-influenced tracks ("Northern Lights") to arena rockers ("Better Walk Away"), pure metal ("Catching Fire") and power ballads ("The Last Goodbye"). All are written with the expected Phil Vincent flair and sense of melody, so despite the rougher vocals (really only noticeable if you've just listened to Face It) Solar Flare is a winner as well.
The production and engineering are very good, and Phil shows that he is equally adept behind the mixing board. All of the instruments are well balanced and clear, and Vincent has done a fine job with his multi-layered vocals. Phil's songwriting skills are apparent as well – everything is tight and performed beautifully, and with spirit. His small supporting cast – mostly guitar soloists – does a superb job throughout. No filler material here!
Simple recommendation – pick up Face It / Solar Flare if you like rock of almost any kind. Fans of any hard rock or metal genre will be able to find something here that they will like (well, except for death metal or female-fronted…). The mix of modern rock styles is impressive and all are well executed. Phil Vincent manages to avoid falling into the rut of routine and keeps his music lively, fresh, and always melodic! When you consider that he is a "one man band" through both CDs, Phil Vincent proves himself to be nothing short of amazing.
Genre: Hard Rock, Metal
Face It Band:
Phil Vincent (vocals, guitars, keyboards, bass, drums)
Guest musicians: Vince O'Regan (guitar solos on tracks 3, 4, 6, 7, 9, 10, 11); David Zychek (guitar solo on 2); Billy Roux (guitar solo on 8); Michael J. Sprague (rhythm & acoustic guitars on 13)
Solar Flare Band:
Phil Vincent (vocals, guitars, keyboards, bass, drums)
Guest musicians : Paul Columbo (rhythm guitars on 14, 15, 19, 22); Steven Albanese (rhythm guitar on 16); Vince O'Regan (guitar solos on 14, 15, 16, 17, 18, 20, 22, 24, 25)
Track Listing:
Face It
1. The Lost Self
2. Long Hard Road
3. Make Up Your Mind
4. Sooner or Later
5. We All Die Young
6. Is This All There Is?
7. Can't Go Back
8. Burning Bridges
9. Changes
10. Divided
11. End of the Line
12. Nothing But Time
13. Full Circle
Solar Flare (Bonus CD)
14. On The Run
15. Northern Lights
16. Make Believe
17. Better Walk Away
18. All Over You
19. This Is The Moment
20. The Last Goodbye
21. Angel
22. Catching Fire
23. Between Us
24. Coup De Gras
25. It's Finally Over
Label: Phil Vincent Music
Website: http://www.philvincent.com/
Hardrock Haven rating: 9/10